Thursday, January 26, 2006
Monday, January 23, 2006
...and this is the end



Ever watched The Rock? If not, you really should. For the action/thriller genre it's really quite fabulous. Funny, witty one-liners carry the engaging story to a perhaps predictable conclusion. But that's what these films are all about - light entertainment, with a pinch of thought-provocation.

"Losers always say about how they did their best... meanwhile the winners go home and fuck the prom queen"

A brilliant line. So yea, the screenshot above is from the film. It should encourage you to watch it 'cause that's a really beautiful piece of cinema...

Anyway. If you want more than just action/trillers, check out I ♥ Huckabees... it's an amazing film. I'll go find a review and post it... 'cause it's well worth watching.




"Yea, ok, I get it. Everything is the same, even though everything is different"

A startling comedy which touches on the subject of existentialism (in particular, existentialism and existential nihilism - philosophers such as Sartre were into this).
Posted by Say Anything Syndrome at 22:54 0 comments

this is the beginning...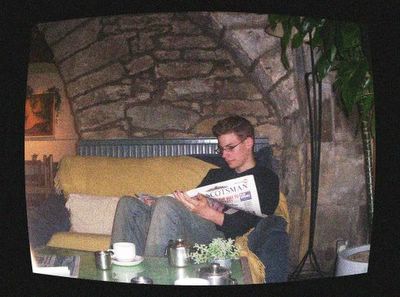 Yes... so for no reason whatsoever I have decided to edit a photo of me in Edinburgh and make it look like I'm on TV... I added noise, I made it a barrel lens. Interesting, eh? Nah, didn't think so, though I do like this photo. It seems very classy to me... I Am The Scotsman. Or not.

But in case you wanted to hear some music, then... tough. You have to wait for the next post. Ah well, but it'll be good. Honest.

Only joking of course... there was actually a point to this. Really... look:

The 50 Best Scottish Bands Of All Time (as voted for by the public) are as follows:

1 Belle & Sebastian
2 Travis
3 Idlewild
4 Wet Wet Wet
5 Sensational Alex Harvey Band
6 Simple Minds
7 Teenage Fanclub
8 Bay City Rollers
9 Primal Scream
10 The Proclaimers
11 Texas
12 Mull historical society
13 Big country
14 Snow Patrol
15 Franz Ferdinand
16 Bis
17 Deacon Blue
18 Fish
19 Jesus and Mary Chain
20 Mogwai
21 Runrig
22 Trash Can Sinatras
23 Del Amitri
24 Orange Juice
25 Nazareth
26 Beta Band
27 Biffy Clyro
28 Altered Images
29 Aztec Camera
30 Eddi Reader
31 Goodbye Mr Mackenzie
32 Fire Engines
33 Delgados
34 Arab strap
35 Vaselines
36 Associates
37 The Pastels
38 Eurythmics
39 Aereogramme
40 Blue Nile
41 Boards of Canada
42 Rezillos
43 Incredible string band
44 Cocteau twins
45 Dogs Die in Hot Cars
46 Spare Snare
47 Average White Band
48 Lulu
49 Skids
50 Shamen

As published in The List. Travis are second. Sorry, what?!
Posted by Say Anything Syndrome at 22:53 0 comments