So, it's nearly Christmas. Seen the news stories about global warming? - there will no longer be snow, etc, etc? Well, I'm still hoping for snow. Why? This song: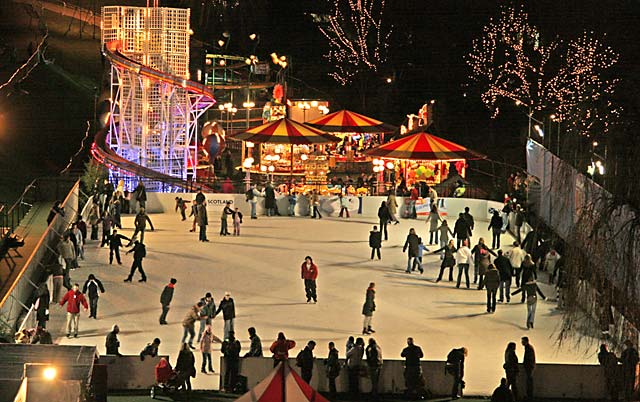 Swimming

In Dulci Jubilo

Trivia: It uses a technique called binaural recording. It makes the song lovely. The kids talking and laughing at the start, and all you can think of is an ice-rink in the middle of a snow-covered piece of land surrounded by the whole community.

The guitar comes sliding through the ice, skating along - no fear - just nice, and casual, and simple, and perfect. All the instruments arrive - they heard maybe Santa was coming? And if not, it's just nice to be outside in their duffel coats with their hoods up and the air cutting through them. Each breath an effort but a lush, refreshingly invigorating one: so, this is what it feels like to be alive?!

This is the type of song they play at outdoor ceremonies - you know the type: a religious message and freshly made tea served in polystyrene cups and mince pies and the Angels come along to dance. To keep it brief: this song is triumphant, it's laughing, it's complex but seems simple, it sounds like anyone could've arranged this - but, could they? no! of course not! - it's like stepping outside, and slipping and falling onto the concrete - oh, but of course! there's ice all around! ice and snow! - and looking up and seeing an Angel laughing at you.




The Late Greats

Sleigh Ride

Frivolous like a fairytale, Christmas is the time of snow, and cards written in a loving hand, with a carefully thought-out message inside, something cliché and earnest. Writing about music is pretty much the same - somehow the words aren't quite right, the sentences aren't as honest as intended. But still, here's another song, and there's really not much to say about it other than:

It's building a snowman in the freezing cold; it's waking up in the morning and your little brother picking up your new Christmas present and throwing it out the window - but it's Christmas, it's funny, you're not mad; it's ice-skating but falling so many times that - oh my, my back, my back! i think i've broken it! ah, help me up, oh please! plea - and pulling that person down with you; it's dancing with someone exceedingly attractive; it's learning to laugh; it's being happy again.

Buy this album! I beg you! All proceeds go to Shelter! The songs are beautiful, and silly, and classic! Stream more of the festivity! It's Christmas!